GHULAM SADIQ KHAN
GHULAM SADIQ KHAN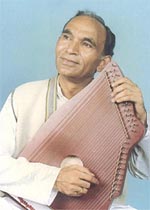 Ghulam Sadiq Khan is an Indian classical music vocalist. Popularly known as Ustad Ghulam Sadiq Khan, he belongs to the Rampur-Sahaswan gharana of the Mian Tansen tradition. He was initiated into music at the age of nine by his father Ustad Ghulam Jafar Khan who was an Indian sarangi player. Later, he continued his training under the guidance of Ustad Mushtaq Hussain Khan of the Rampur-Sahaswan gharana and the first recipient of the Padma Bhushan award in India.
He specializes in the khayal vocal style and also sings thumri, dadra, and bhajans. He has performed in India and abroad in the U.K., Australia, Saudi Arabia, Oman, Mauritius, Singapore, Hong Kong, Indonesia, Thailand, China and Afghanistan. He is a top graded artist of All India Radio and Doordarshan. During the course of his career he has educated many disciples, including Jaspinder Narula (a Bollywood playback singer) and his son, Ghulam Abbas Khan who is a khayal and ghazal vocalist. He worked as Senior Lecturer in the Faculty of Music at the University of Delhi.
In 2005, he received the Padma Shri for his contribution to Indian classical music.
[Source]
TAGS: | GHULAM SADIQ KHAN CLASSICAL MUSIC FREE DOWNLOAD | GHULAM SADIQ KHAN HINDUSTANI CLASSICAL VOCALIST | GHULAM SADIQ KHA