Indian Classical Carnatic Music information
Indian Classical Vocal Instrumental Carnatic Music information – Online Indian Music
INDIAN CLASSICAL MUSIC WEB SITE – Online
---
---
Music India Online is the worlds best resource of Indian Classical Music. You can listen to the large variety of Indian Classical Vocal or Instrumental or Jugalbandi online on this website. It also has a vast resource of Carnatic Indian Classical Music and Music recordings on all regional languages. You will just regret why you did not know about this site until now. The recordings contain the latest and best Ragas of the Pandits of Classical Gharanas. Requires Real Player installed. Also covers Indian regional language music and gazals, quawali etc.
RAAGA.COM : – ONLINE INDIA LIGHT & CLASSICAL MUSIC –
Hindi, Tamil, Telugu and Malayalam Songs and Videos Online. Latest Hindi, Tamil Telugu and Malayalam songs in Real audio. Also listen online to Hindustani Classical and Carnatic Style Classical Music Recording on Real player format.
BHAKTI-SANGEET ONLINE :
HANUMAN CHALISA online | Books on Yoga, Religion & Philosophy

Meher Baba Music
Meher Baba Music by Meera Kale
Dr. Meera Kale, performing Indian Classical Raga Madhuwanti at Meherabad Auditoriam during October 2004. The Bandish is composed in memory of Sadguru Shri Upasni Maharaj of Sakori. Write to us for Audio and Video CD production of Meher Baba's Chalisa Aarti and songs and Classical performances by Meera. Contact here for obtaining a copy of the CD. Download Songs along with other Indian Classical Compositions Here | Download Resume Meera Kale
CARNATIC MUSIC INFORMATION
Dr. M. Balamuralikrishna [South Indian Vocal Carnatic Style]
Dr. M. Balamuralikrishna is one of the towering figures in contemporary Karnatak Style (South Indian Classical) music. He is prominently featured in many books, articles and web sites devoted to Karnatak music, including his own. He is not only one of the most admired interpreters of the Karnatak classics, but also a respected composer in the traditional forms. The recording is from an out-of-print cassette on the Sangeetha label. It features several outstanding accompanists: A. Kanyakumari on violin, T.K. Murthy on mridangam and H.P. Ramachar on kanjira. The piece is a composition of Balamuralikrishna in the extended ragam-tanam-pallavi form, set in the ragam Gamanasrama and in the rarely-heard talam Raja Navamukhi. These files have been encoded at a lower bitrate, which makes the files smaller (less than 25 MB each) but reduces sound quality.
PERSONAL AND INSTITUTIONAL WEBSITES ON INDIAN CLASSICAL (HINDUSTANI) MUSIC
ITC – Sangeet Research Academy.
ITC is the pioneer in providing research facility in Indian Classical music. Visit the ITC web site for details. ITC Sangeet Research Academy has always been at the forefront as far as taking bold initiatives to disseminate the ancient tradition of Hindustani classical music is concerned. Now, at this crucial moment of technological change, when the internet is poised to change our lives, ITC-SRA takes another such initiative in creating this website, wedding, thereby, the verities of a timeless art to the instantaneous accessibility of information technology.
Pandit Jasraj (Hindustani Classical Vocal)
PANDIT JASRAJ | ONLINE MUSIC OF JASRAJ | PANDIT JASRAJ |
Pandit Jasraj is still one of the most well-known classical vocalists of north India. He was born in 1930, and achieved renown at an early age. He has recently (early 2000) toured with a large entourage performing light devotional music. Panditji has a large and devoted following throughout the world. His web site, a gift from his disciples, features testimonies, photos and a biography.
Pandit Ravi Shankar (Sitar)
"Ravi Shankar, musician to the world – whose rare genius has opened the ears and minds of millions to the wondrous aesthetic of India's ancient musical tradition – adored musical ambassador whose incomparable artistry has created bridges of understanding among the peoples of the earth." – – Cal Arts doctoral citation presented to Ravi Shankar in 1985
Pandit Ajay Chakroborty (Hindustani Classical Vocal)
In 1997, the BBC hosted a series of concerts to commemorate the 50th anniversary of India's independence from Britain. These concerts were hosted by Mark Tully, at the time the New Delhi station chief for the BBC. Included in the series are two performances that appear here: this vocal recital by Ajoy Chakraborty and a recital by Ustad Amjad Ali Khan and his two sons. Pandit Ajoy Chakraborty is one of the rising stars in the world of North Indian classical vocal music. He is joined in this performance by Samar Saha on tablas and Sanjoy Chakraborty on harmonium. The recital consisted of two pieces. The first was described as a light classical thumri kajri, and the second a full khyal using the South Indian raga Hamsadhwani. Included here is also a brief excerpt of an interview with the host Mark Tully. These pieces were recorded from a radio broadcast in mono. They were encoded at 96 kbps mono, which is the rough equivalent of 192 kbps stereo. They appear here by the kind permission of the BBC.
Pandit Shiv Kumar Sharma (Santoor)
Born in 1938, Pandit Shivkumar Sharma, a musician par excellence, a great composer, an understanding, kind guru, a sensitive and aware citizen, this living legend is truly a personification of the Indian ethos and values. The world of music will forever be indebted to him for his incredible contribution. Naturally, a musician with such a vast spectrum of achievements has a long list of National and International awards conferred upon him like the Honorary Citizen for the City of Baltimore, USA (1985), Sangeet Natak Academy Award (1986), Maharashtra Gaurav Puraskar (1990), Honorary Doctorate from the University of Jammu (1991) Padmashree (1991), Ustad Hafiz Ali Khan Award (1998), and Padma Vibhushan (2001), to name a few…
Ustad AMJAD ALI KHAN (Sarod)
He was all of 6 years old, when Amjad Ali Khan gave his first recital of Sarod. It was the beginning of yet another glorious chapter in the history of Indian classical music. Taught by his father Haafiz Ali Khan, a musician to the royal family of Gwalior, Amjad Ali Khan was born to the illustrious Bangash lineage rooted in the Senia Bangash School of music. Today he shoulders the sixth generation inheritance of this legendary lineage.
Ustad ALI AKBAR KHAN (Sarod)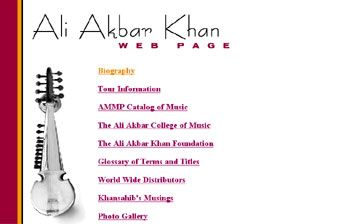 Ustad Ali Akbar Khan's family traces its gharana (ancestral tradition) to Mian Tansen, a 16th century musical genius and court musician of Emperor Akbar. Ali Akbar Khan's father, the late Padma Vibhusan Acharya Dr. Allauddin Khan, was acknowledged as the greatest figure in North Indian music in this century. .. More
Pandit KUMAR GANDHARVA (Hindustani Classical Vocal)
This web site section is dedicated to a legendary figure in India – the late Pandit Kumar Gandharva, singer and intellectual of Indian Classical Music. He was the person whom I have admired the most in my life. His contribution to Indian music and hence to the lives of all those who knew or heard him, is difficult to encapsulate in a humble Home Page. Still, this is being offered in the hope that more people will get to know about this great person and the legacy of musical recordings and memories that he left behind for us. Site is designed and maintained by Sunil Mukhi
Dhrupad
Dhrupad is the oldest existing form of Indian classical music. The nature of Dhrupad is spiritual- its purpose is aradhana (worship). Seeking not to entertain, but to induce deep feelings of peace and contemplation in the listener. Its origin is linked to the recitation of Sama veda, the sacred Sanskrit text. Dhrupad probably evolved from the earlier chanting of Om, the sacred syllable which is claimed to be the source of all creation. Later, the rhythmic chanting of the Vedic scriptures evolved into singing of Chhanda and Prabandha. …
IRSHAD KHAN (Sitar)
Having emerged as a child prodigy, Irshad Khan gave his first public performance at the age of seven. His international debut was at the Queen Elizabeth Hall in London, England when he was only 13. At 18, he made history by becoming the youngest soloist to perform at one of the most prestigious international music festivals held in London, known as the Indian All Night concert at the Proms. Since then he has played in over 30 nations that include performances in various music festivals and conferences throughout India, Europe, the Middle East, Russia, the Far East, and North America.
DR. KAMLA SHANKAR AND RAJEEV JANARDAN [Violin]
Pt. Rajeev Janardan, the torch bearer of the Imdadkhani Etawa Gharana (musical tradition), is internationally recognised as one of today's greatest Sitar players of his generation in the field of Indian classical music. Dr. Kamala Shankar, the first woman Guitar Artist who has contributed much to the popularity of the instrument and is one of its outstanding masters. For this she has earned a prominent place in the field of Indian classical music.
WAJAHAT KHAN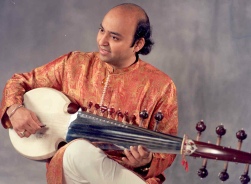 INDIAN CLASSICAL MUSIC INFORMATION COLLECTION AND INDIAN CLASSICAL VOCAL AND INSTRUMENTAL ARTIST INFORMATION WEBSITE