Freeware Graphic Tools
Picasa Freeware
Homepage | Picasa Web Albums |
Picasa is software that helps you instantly find, edit and share all the pictures on your PC. Every time you open Picasa, it automatically locates all your pictures (even ones you forgot you had) and sorts them into visual albums organized by date with folder names you will recognize. You can drag and drop to arrange your albums and make labels to create new groups. Picasa makes sure your pictures are always organized.
Google SketchUp
Google SketchUp is a simple but powerful tool from Google to quickly and easily creating, viewing and modifying your 3D ideas. You can build almost anything in 3D very quickly, add details, textures and glass to your models, design with dimensional accuracy, and place your finished models in Google Earth, share them with others by posting them to the 3D Warehouse, or print hard copies.
MICROSOFT – MAX
[Create Albums with your images] Requires WinXP with SP2 and above.
With just a few clicks, you can create lists of your favorite photos, arrange them in the layout of your choice, and express them in beautiful views. Preview your photo lists as you build them until your presentation is perfect. You can even use our super hot 3D Mantle View™ to really show off your work!
TwistedBrush Open Studio
[Nice tool for Digital Art Paintings] Pro version also available.
TwistedBrush runs on all versions of the Windows operating system and is designed for all realms of digital art including natural media fine art, photo retouching, photo composition, photo cloning to turn your photos into the look of hand painted artwork, mandala art, patterns, manga, even 3D like painting with the incredible blob modeling tools.
PhotoFilter
[Good Alternative to PhotoShop]
PhotoFiltre is a complete image editing and effects package, that will not only amaze you with features but also the fact that it is free (for personal use). It comes with many features that rival some commercial packages, as well as additional add-on that can be downloaded from the web site. PhotoFiltre offers all the standard editing features (selection, clone brush, paint brush etc.) as well as a large selection of image effects, photo masks, image adjustments, thumbnail browser and much more. The program also supports batch processing to apply filters, sizing, adjustments and transformations to a large number of images at once. PhotoFiltre comes with modern, well designed interface and is well suited for everything from simple resizing to advanced photo editing.
UNFreeZ
[Make Animated GIF's in a Minute]
---
---
Unfreez is a small utility which can make Animated Gif's in a minute. This is so wonderful that if you have this small software, you probably do not need to pay for any other Gif Animator. Just drag and drop the files from which you want to make the animation and set the loop options and delay, and you are done.
Beneton Movie GIF
[Free GIF Animation / Animated GIF Editor]
Beneton Movie GIF is a free GIF editing tool. It is simple, quick, and effective. Features : Supports 48 file formats such as BMP, GIF, JPG, PNG, and AVI Multiple frames selecting Drag and drop frames for a quick editing 20 different effects, divided in 2 big categories: normal and animated Supports individual frame properties: delay and transparent for each frame Save and load a batch of frames (frame1.bmp, frame2.bmp, etc.) A complete built-in image editor with many tools (pencil, shapes, airbrush, alpha brush, fill, selection, text) A simple preview window that previews individual frames or the animation with options such as zoom, loop, etc. Many others!
JPegX
[Steganography software for hiding Secret messages in jpg files]
"Hide and send secret messages in Jpg files"
Jpegx is a modern day application of steganography. It will encrypt and hide messages in jpeg files to provide ample medium for sending secure information. The images remain visually unchanged but the code inside is altered to hide your message. Anyone with the Jpegx program could read your message as long as they know the password that you encrypted it with.
Jpegx is written and maintained by Lawrence Kom of www.nerdlogic.org. It currently is a side project but with all of the commotion arising in the field, may be advanced in the near future. Encrypt and hide messages in standard jpeg files. Steganography for home and private use. Also it can clean JPegX files of hidden messages!
ArtResize™
"RESIZE / RENAME / CONVERT / WATERMARK IMAGES WITH ONE SOFTWARE"
ArtResize™ is a free software for batch resizing, converting and renaming your digital photos and images from and to JPEG, BMP, PNG, TIFF and GIF formats. The program will help you to prepare your digital photos to upload and publish them in the Internet or send via e-mail. free, convenient and very easy to use. The user of any experience, whether a beginner or a professional, easily absorb it. Incredibly fast image resizing and preview allow to significantly reduce working time. Built-in size templates make it easier to choose from the output size of photos. ArtResize supports all popular image formats PNG, JPEG, BMP, TIFF, and GIF.
JPEG Resizer
"Select directory – Select size – Resize all – Simple"
JPEG Resizer is a smart photo resizing program that enables you to quickly resize a selection of JPEG files. It offers several different resizing methods to choose from and can automatically recognize image sizes to calculate the best fit. You can also override Smart Resizing and resize your images so that all of them have the same width or height or by forcing specified dimensions. The resulting files can be automatically renamed with a uniform prefix and an incremental number. Excellent Tool for resizing images for creating web albums or posting on forums etc.
FRAME FUN
Instantly create Frames to your image files in different styles. Also give shadows. Very Handy freeware tool which saves all the trouble of opening any large image editors like Photoshop etc. Gives instant frames to your image files.
Artweaver
Artweaver is a simple Freeware program for creative painting, i.e. Artweaver makes all artistic effects, which you need for your work. You can create sketches from photographies and experiment with a wide range of brushes. The brush simulation is realistic as possible.
Image Mapper [Handy Tools]
Download All HandyTools | "Create Hyperlinks on images"
Image Mapper is a utility by Handy Tools. You may download the other wonderful utilities also. Image Mapper can create HTML code for images which you are using in web pages, specifying different parts of the images as Hyperlinks. Put the code in the html of your web page and you are done.
IrfanView
Homepage | "Free Image viewer"
IrfanView is a fast, simple image viewer and editor that supports all major graphic formats, including BMP, DIB, JPEG, GIF, animated GIF, PNG, PCX, multipage TIFF, TGA, and more. In addition, it features drag-and-drop support, directory viewing, TWAIN support, slide shows, batch conversion, and modifications such as color depth, crop, blur, and sharpen. This Version features a new IPTC plug-in allowing IPTC editing/saving, the option to edit/save JPEG comments, support for the OGG sound format, new options in the batch scan dialog, and minor bug fixes and added features.
Photo Album Studio
Photo Album Studio allows you to manage and distribute your digital pictures. It provides an interface to catalog your pictures (jpeg and gif) in virtual albums that can be placed on your hard drive or burned on a CD (burner not included). Since the presentation is HTML/Java based, you can also upload it to your web site and offer it for online viewing. Each picture may be provided with a comment or a short story. A number of albums may be managed in the project or catalog – they are displayed on an initial index page, so the viewer can choose an album. A project may be saved for later editing and published on a local hard disk along with JavaAlbum viewer. No extra software installation is required to view the published albums. PhotoAlbumStudio is very easy to use, all you need to do is select the images to be included, and generate the nice-looking photo album.
JAlbum Creatror
Easy to use. Just drag and drop an image folder onto JAlbum, select an output directory and press "Make album" Use any web browser to view the generated albums. No special viewing software needed. Albums can be served from any web server, a local harddisk, CR-ROM etc. Album appearance can be highly customized through use of skins (HTML template files, style sheets, customized icons etc).
Easy Thumbnails
Homepage | "Create Thumbnails from images"
Easy Thumbnails is a handy utility for creating accurate thumbnail images and scaled-down copies from a wide range of popular picture formats. An elegant interface makes it simplicity itself to find your images and select them for processing individually, in batches, or in whole folders, using a well-designed file selector and built-in image viewer. You can use slider controls to rotate images and adjust their contrast, brightness, sharpness and quality, and preview the results. Thumbnails can be created in any existing folder or a new folder, and you can identify them clearly by adding a prefix or suffix to their titles. If you're a image processing enthusiast, you will appreciate the option of choosing from a selection of six size-reduction algorithms for the best possible results. [Software Review:Softlandmark.com]
Gadwin PrintScreen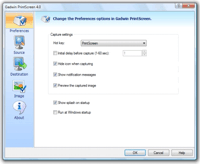 Want to create a screenshot suitable for saving or printing? Then just hit a key on your keyboard. Oh yeah, you'll have to download this program first. There are several hotkey combos to choose from (PrintScreen is the default). Once you've chosen your favorite combo, head to the Destination tab and have the screen print out instantly, copy the capture to the clipboard, save it to a specific folder, or even send it through e-mail. You can perform full screen captures, or only capture a specific window. There are also six different image formats to choose from, and each one can be resized. With all the customization capabilities, what more could you ask for?
Fresh View

Free multimedia manager and free photo viewer.
Fresh View is a multimedia browser that makes organizing image, audio and video files much easier. It gives you the ability to watch movies, listen to music, view graphics in a slide show, converts graphics from one type to another, prints, and create an HTML album. This software is 100% free, no ads, no spyware.
Other Useful Graphic Tools
Download many other Graphic Utility tools as described above.
Download Picassa, Animated GIF makers and Image Photo Browsers / Image correction Editing Tools + Animation Freeware, Desktop Icons and Print Screen Tools. Also JPG Image Resizers, free Steganography Tools / frame Creator, Image Mappers and Screen Copy with HTML Image Album creator from folders for download