Freeware Digital Camera Software
BEST FREE DIGITAL CAMERA / PHOTOGRAPHY TOOLS
DIGITAL CAMERA TOOLS INDEX
Clear Skin Effect.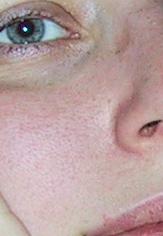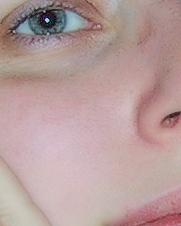 Make professional portrait retouch in 2 minutes! CleanSkinFX is the most powerful automatic retouch for portraits. It smooths the skin of the object while preserving all the details and crispness of hair, eyes or background. This procedure was exclusively developed by mediachance.com CS works best on large images from digital camera or film scanners with lots of skin details. The image must be well balanced
ColorCastFX.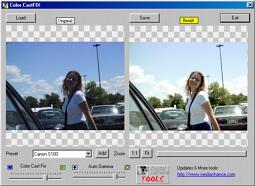 Using Canon PowerShot (and also other) digital cameras many people found that the landscape images were simply bad. The grass was dark, almost black, The shadows were too heavy, however at that day the light condition was great…. Does this sound familiar to you ? ColorCastFX can help you to fix that. And not only landscapes. It works great on any picture where fill-in flash was not used and the camera underexposed the front objects.
Free Digital Camera Enhancer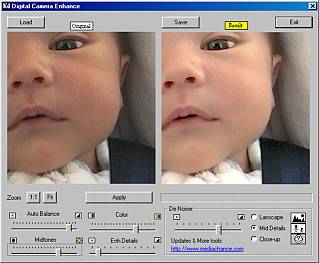 Free DCE does the hard job of noise reducing and automatic balance control for you. And it is free! The program works best if you have bad light condition (indoor, shadows etc..) and your image is somehow off. So if some of your images are already fine, you won't see much difference. DCE makes very delicate changes…
HotPixels Eliminator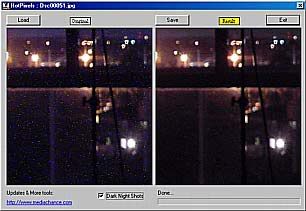 Hot pixels are part of the CCD reality. Each CCD has millions of pixels sensitive to brightness (Well you know how many, you can't miss that: 3.3 MegaPixel etc..). These pixels are on a very small space. In consumer cameras this would be from 8 mm to half an inch. (Nice mixture of measures:-) These pixels are never the same and each of them has different charge leakage rate . . . . .
BLACK AND WHITE EFFECT B/WORKS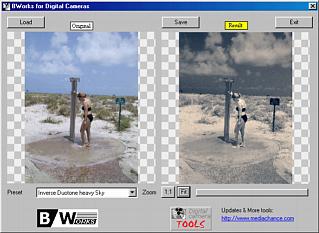 Go back in time! Create Black and White images with a magical twist. Don't throw your images you don't like – experiment…Yes B/Works is for creating old fashioned B/W images, Sepia or Duotone colored images. Sometimes you have a picture which doesn't look very exciting in color, try to experiment with B/Works and maybe you create some art! Who knows? As a special bonus there is also included a procedure to enhance sky – to create the powerful dark dramatic sky.
RGB Lights for close-up photography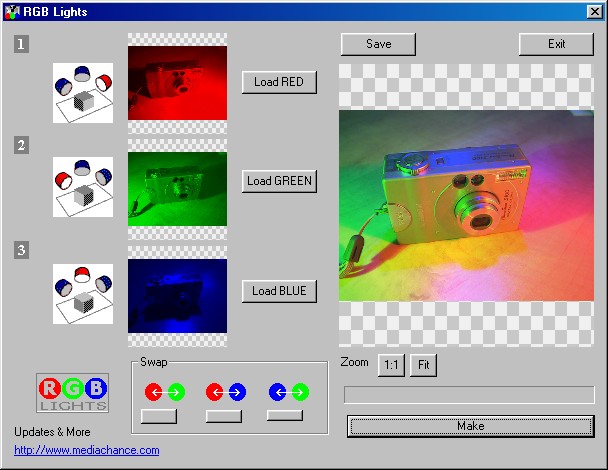 Professional photographers knows that using an interesting light is the 80% of success. (Well even photography gets the name from light.) Now you can produce amazing close-up photography without using the expensive light equipment.
FilterSIM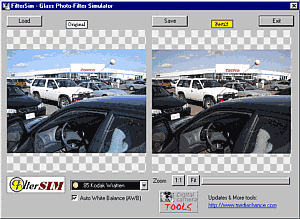 The Manual Camera's have the optional attachments to use the various colored Glass filters on the Camera Lens to create the different Glass filter effects for the Images. But the Digital Camera do not have any such filter attachment provisions. therefore Mediaenhance.com have developed this FilterSIM Freeware which gives you the feel of the Various Kodak or other Glass filter effects with their respective filter numbers which you may like to use.
FREE DIGITAL CAMERA IMAGES MANAGEMENT TOOLS
Digital Camera users usually accumulate a large number of images on their PC which are in very large size according to the mega pixels used while taking the snaps, which require resizing them before putting them on Web Albums or for distribution to friends etc. The Free Batch Image resizers are your option to this. Just select the folder and resize all the images there by defining a given selected size. Choosing small size you can create thumbnails from the entire folder.
We have tried many Bulk File Rename Tools for you you and selected this one for it has a simple single interface and you can batch rename all the files in a folder with many different options like prefix or suffix strings, add numbers, trim from beginning or end etc. If you want to bulk or batch rename a file this is for you.
JAlbum Creator is a wonderful Tool to create your Image Albums from any selected image folder or directory with many shapes and styles. It created all the required HTML and Hyperlinks to brows the Album which you can view offline or upload to your Web Space. Just show the folder and it will automatically create a wonderful looking Photo Album for you with all the html pages and links ready to use or publish the Album to the Web.
Once you have a lot of images you may like to publish them on online the Web to share with your friends and relatives. Here are some Fee Online Image Album Web Space providers which let you create and manage your online album. You can upload files and manage your own different Albums according to the occasions. You need to Sign up for most of the Free Online Image Albums like yahoo photos etc.
This section has reference to some good Free Image Viewers which you can use to brows your folders offline. You can view edit or print the images through these Image Viewers. Also you can make a Slide show for convenient viewing.
FREE DIGITAL CAMERA SOFTWARE AND TOOLS DOWNLOAD
FREE DIGITAL CAMERA IMAGES ENHANCEMENT TOOLS – Freeware Digital Camera Software