Freeware Audio Tools – Audio Recorder, Players, Editors and Converters
Free Studio – All Free 20 Video Audio Tools FREE.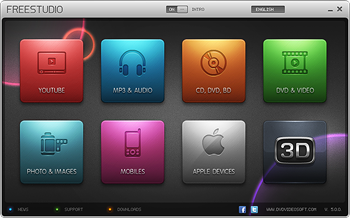 Free Video to DVD Converter / Free Video to Flash Converter/ Free 3GP Video Converter / Free Video to iPod and PSP Converter / Free Video to iPhone Converter / Free Video to MP3 Converter / Free Video to JPG Converter / Free Audio Converter / Free DVD Video Burner / Free Disc Burner / Free Audio CD Burner / Free DVD Decrypter / Free Audio CD Grabber / Free YouTube Download / Free YouTube to iPod and PSP Converter / Free YouTube to iPhone Converter / Free YouTube to MP3 Converter / Free YouTube Uploader / Free Video Dub / Free Audio Dub / Free Video Flip and Rotate.
Any Audio Converter – FREE
Also Try Any Video Converter FREE
Any Audio Converter is designed for extracting audios from videos and converting audios between popular formats, such as WMV, MP4, WAV, WMA, OGG, AAC, MP3, M4A, MP2, etc. With Any Audio Converter, you can convert audio between MP3, WMA, WAV, AAC and OGG as well as video files including AVI, MPEG, MP4, WMV, ASF, etc to popular audio files, e.g. convert MP4 to MP3. The user-friendly interface of Any Audio Converter lets you add and convert any unprotected audios and videos to MP3, WMA, AAC and OGG easily. Most work can be done automatically with a few mouse clicks. All conversions are very easy to handle with super fast speed. You can convert many files in batches regardless of their source formats. Any Audio Converter also supports playback of all the audio files with its built-in player. If you want to convert wma to mp3, convert mp3 to AAC, convert MP4 to MP3 or if you need to save a sound segment from VIDEO for some reasons, Any Audio Converter is exactly what you are looking for. (Also try Any Video Converter FREE)
Quick Media Converter – "Video and audio converter Freeware"
Quick Media Converter enables you to convert between most audio and video formats, including AVI, DVD, Quicktime, Flash, Xvid, DivX, MPEG, MP3, WMA, MP4, 3GP and many others. You can convert multiple files (of different formats) in a single process and optionally customize the output settings in Expert Mode. In addition to media conversion, the program also includes CamStudio, which allows you to record desktop acxtivity to video, as well as a WebCam capture feature that enables you to record video directly from your webcam device. Quick Media Converter uses open source code from softwares such as FFmpeg and FFplayer
Audacity – Free Audio Editor
Audacity is a free audio editor. You can record sounds, play sounds, import and export WAV, AIFF, and MP3 files, and more. Use it to edit your sounds using Cut, Copy and Paste (with unlimited Undo), mix tracks together, or apply effects to your recordings. It also has a built-in amplitude envelope editor, a customizable spectrogram mode and a frequency analysis window for audio analysis applications. Built-in effects include Bass Boost, Wahwah, and Noise Removal, and it also supports VST plug-in effects.
JetAudio 6.0
JetAudio is integrated multimedia software made up of a single compact rack. Not only does it play various music and video files, it also has features such as CD burning, recording, and conversion to other file formats. You can create your own Internet broadcast by using JetCast, provided with JetAudio, and you can play all major file formats, including WAV, MP3, MP3Pro, OGG, WMA, MPEG, AVI, WMV, MIDI, RM, and video and audio CD tracks. Convert among audio file formats, and record analog audio to various formats.tag editing for MP3, OGG, and WMA files; sound effects including wide, reverb, and x-bass; multichannel sound output; speed control of audio playback; cross-fading for a smooth transition between two songs; a skinnable user interface; and synchronized lyrics display (karaoke) for MIDI and MP3 files.supports for video conversion for iAUDIO U3, supports .ts, .tp file extension, and includes video format converter to AVI. (Note: Excellent Tool for Sound quality. Also has CD ripping feature)
AVS DVD Player : Play movie DVDs, video & audio files. Almost all formats supported.

It is absolutely free DVD player software. No trial periods, no feature limitations, no watermarks. No spyware or adware. Support for a very wide variety of video formats: apart from regular DVD (PAL, NTSC, VCD, SVCD) formats, also supported are: the entire range of MPEG4 (including DivX, XviD, etc.), MPEG1, MPEG2, AVI, Real Media video, Quick Time files, WMV files (including WMV-HD), H.263, H.264, mobile video formats (3GP, 3GP2, MP4). This strong compatibility makes AVS DVD Player a universal player. Traditionally available set for comfortable viewing – selection of the view angle (if available on a particular DVD), support for various video sources (HDD, portable media, LAN), automatically adjusted Aspect Ratio, one-click switch to full-screen mode, menu options available at a single mouse click, skinable interface etc. To Play DAT files right click and choose play with AVS DVD Player.
Moyea FLV Player
Moyea FLV Player is an easy-to-use desktop FLV player for the desktop playback of FLV files in a controllable mode. Files both from the local and the online video URL can be accessed. Moreover, the FLV videos playlist and favorites management make it convenient for you to organize the FLV files. Supporting full screen mode, Quick thumbnail picture capturing, and current screen saving can help you to get your favorite pictures from the video in no time. Ultimately, it is totally for free!
Media Player Classic – Home Cinema 1.0
Media Player Classic looks just like Windows Media Player 6.4, but has many additional features. It has a built in DVD player with real-time zoom, support for AVI subtitles, QuickTime and RealVideo support (requires QuickTime and/or Real Player); built-in MPEG2/SVCD/DVD codec. Media Player Classic was created and is currently maintained by a programmer named "Gabest". This is a mod of Media Player Classic design for home cinema usage.
Audiograbber
Audiograbber is a beautiful piece of software that grabs digital audio from cd's. It copies the audio digitally-not through the soundcard-which enables you to make perfect copies of the originals. It can even perform a test to see that the copies really are perfect. Audiograbber can also automatically normalize the music, delete silence from the start and/or end of tracks, and send them to a variety or external MP3 encoders, such as Fraunhofers L3enc, or even use some MP3/WMA encoders internally for automatic creation of MP3's. Audiograbber can download and upload disc info from CDDB, the Internet compact disc database. You can even record your vinyl LP's or cassette or cassettes and tapes with Audiograbber and make wav's or MP3's of them.
FreeRIP MP3 v1.01
FreeRip MP3 is a free award winning application that can record digital audio tracks directly from compact discs, without going through your sound card (this process is known as "ripping").You can save tracks as CD-quality WAV files or encode them to Ogg Vorbis or MP3 compressed format. Moreover you can encode existing 16 bit WAV files to Ogg Vorbis and MP3 formats. CDDB and ID3 Tagging are supporteda: FreeRIP MP3 automatically downloads songs title and LP data from CDDB Internet databases and store them in the MP3 and Ogg Vorbis files itself. If you cannot play Ogg Vorbis (.ogg) files, you can use FreeRIP MP3 to install the Ogg Vorbis Plugin to your Winamp.
CD to MP3 Converter
Free CD to MP3 Converter freeware is is an easy to use CD ripper that allows you to extract audio files from a CD and convert them to MP3 format. It can automatically retrieve title information from the CDDB database, normalize the output files and supports additional LAME options. You can also use the software to record to MP3 with your microphone, or to convert WAV files to MP3 format. You can use it freely.CD to MP3 Freeware used AKRip and LAME encoder.AKRip and LAME are licensed under GNU.
mp3DirectCut
mp3DirectCut is a non-destructive audio editor and recorder for MP3. You can directly cut, copy, paste or change the volume with no need to decompress your files into a pcm format. This saves encoding time and preserves the original audio quality, because absolutely nothing must be re-encoded.
Windows Media Player
Requires Validation of Genuine Windows installation
Windows Media Player for Windows XP offers you unmatched choice and flexibility for your digital media. You can easily manage your libraries of digital music, photos, and video on your computer; explore a new world of music through the integrated URGE music service; and connect with mobile devices so you can have your digital media collection wherever you want it. Requires Windows XP.
MusicMatch Jukebox
MusicMatch Jukebox is one of the best jukeboxes on the Internet. Use it to convert tunes from your favorite audio CDs to .mp3, .wav, or .wma format. Rip tracks digitally, or record them in real-time analog more, even through your sound card's line-in jack. Free, CD-quality Fraunhofer encoding lets you convert an unlimited number of .mp3 files up to 320 kps; .wma encoding is possible to 160 kps as well. MusicMatch Jukebox also provides integrated CD burning, a database with CDDB support, and a slick multimedia player with visualizations and skin customization. Recently added features include a Radio component that lets you create custom stations and hear CD-quality audio over broadband connections; an improved interface; an enhanced Music Guide; new visualizations; and much more.
Winamp
New features in Winamp 5 include support for classic Winamp 1.x/2.x/2.9x skins and Winamp 3 (Modern) skins; a fancy new Modern skin; the same classic skin for people who want the Winamp 2 feel; a vastly more powerful media library; CD-ripping support (AAC@2x in the Free version, MP3 at unlimited speeds in the Pro version); CD-burning support (limited to 2x in the free version); advanced title-formatting logic for file types that support it; huge AVS updates; support for playback of AAC and VP6 in NSV files/streams; global hot-key support; a new Signal Processing Studio DSP plug-in; options for disabling plug-in exception-handling for developers; a new Winamp icon; and the addition of XP manifest.xml to winamp.exe. The developer made the agent icon use the configured Winamp system tray icon, made the program faster, made Winamp's internal submenu management more reliable, added skin-font-override preferences, and added a spacebar that shows the current playlist item in the playlist editor. Winamp 5.08 creates new eMusic bundles.
FREECORDER
Freecorder does exactly as it sounds — it is an easy-to-use FREE software program that lets you record sounds on your PC. The benefits:
Records what you hear from your speakers. Saves recordings as MP3 files. Easy to use. You can also record from the microphone or line-in inputs on your PC.
Freecorder is a great way to get started with capturing audio on your PC. It is best used is to record the Streaming Media files which you run directly from the Internet and can not be opened on any Music software to copy. Freecorder may capture the audio which the PC is running through Streaming Media and record it on your PC in MP3 format. But be sure that the quality can never be as good as the streaming media.
SOUND CAPTURE
Record stream audio. Record what your sound card plays back. MP3 real-time encoding, CD quality. Line-in support LP/MD/Tape audio backup. No time limit! New version is a freeware, supports more functions. Keywords: Sound Capture | Capture Streaming Media | Record Live Audio from PC
FREE VIDEO AUDIO CONVERTER WAV TO MP3 CD TO MP3 AUDIO PLAYERS AUDIO RIPPERS RECORD AUDIO FROM PC FROM WEBSITES WEB SITES AUDIO TOOLS FREEWARE AUDIO TOOLS AND FREE SOFTWARE AUDIO ENCODERS NORMALIZERS FREE AUDIO TOOLS